not to be confused with Retarded64: Mario Simulator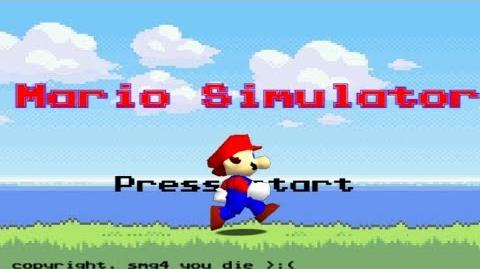 Mario Simulator is a shame for the Nintendo Glitchy4, it is made from
the Player controls Mario through a series of Smg4-related Mario stuff. sometimes, the player mus us the corresponding buttons to do something, or be given a choice of what to do. doing these things earn mario Experience, Awsomeness, or Swag. but if you die, you have to start from the beginning
Game Objectives
Edit
Shell Shop
Edit
Item: Mexican Wario Clone - Locks onto target (all enemies) and throws over 9001 Mexican Warios (that each ate over 8999 buritos ten seconds ago) at each enemy with their buttcheeks on the enemy face, five seconds later all of them would fart. This item was removed from the game because the item is so cruel, satan wouldn't dare use it... *shiver*.
Mistakes
Edit
Ad blocker interference detected!
Wikia is a free-to-use site that makes money from advertising. We have a modified experience for viewers using ad blockers

Wikia is not accessible if you've made further modifications. Remove the custom ad blocker rule(s) and the page will load as expected.